the Confluence
---
the Site
Richmond Town- a zone within the central business district of Bengaluru, is a region of diverse land uses ranging from cemeteries, residences, commercial activities and parks. It is flanked by Hosur Road towards the east, one of the major inroads into Bengaluru city. 
The chosen site is that which presently houses the historic Johnson Market, which serves as a prominent node within the region. The site was chosen for its proximity to local landmarks such as the Babul Hawaej Shrine and Fanoos restaurant. The surrounding land use is primarily commercial towards the north and residential towards the south, with one of the largest Shia settlements of the city lying on the periphery of the site.
The presence of both the military school as well as the Baldwin high school complexes serve as site forces, along with the BWSSB water tank that is located on the site.
the Program
The design proposal is a Food Hub that serves as a cultural node for the region of Richmond Town. The intent was to redesign and revive the existing market and to articulate an intervention that would engage a greater range of activities and users on the site.
In line with the intent, the program was developed as a mixed-use Food Hub comprising a culinary school, restaurants and market stalls- both permanent and temporary as a city level intervention, as well as library and gallery spaces as a neighbourhood level intervention.
the User Experience
The brief was designed to engage different demographic groups and a qualitative analysis of the same revealed 6 varied user groups.
citizens or the public

commuters

market vendors, chefs

market customers

neighbours and children

students
The design intent was to cater to all these groups and therefore the first step in the design development was the identification of schemas specific to each of these groups.
the Design Response
The design response was a confluence of the schemas defined by the user group analysis and was focused on the larger idea of achieving urban porosity. The direction was guided by the old Johnson Market building, wherein the circulation logic of the older building was referenced within the new design.
the Drawings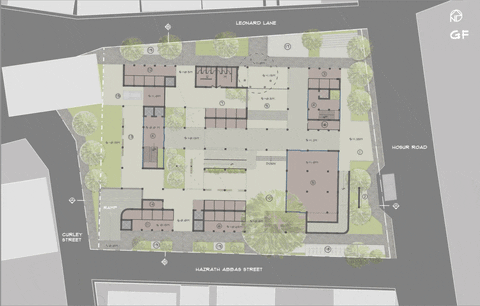 the Planning Logic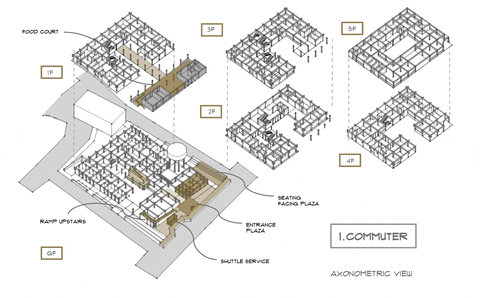 the Urban Response
City scale
Sidewalk

Plaza

Food Court
Neighborhood scale
Courts 

Parklets

Landscape buffer
Site scale
Arcade 

Circulation patterns of the old building

Water tank
Sara Susan Paul
"I am an architecture student, drawn to the field by a curiosity about the correlation between people, their culture and the built environment. As a result, my approach to architecture is people- centric and my explorations, a confluence of analytical and pragmatic processes, supported by an inclination towards drawing that has emerged as an impetus for creative thinking."
Sign up to The CCD Newsletter